Hear what our clients are saying about Salazar Fine Tuning ...
---
"Salazar Fine Tuning built a one-of-a-kind Bass Marimba for The Mallet Band, my group consisting of only mallet players and percussion. The Mallet Band had been using synthesized bass marimba parts for years, and we desperately wanted to keep our entire sound acoustic. I spoke to John about designing an instrument that could drive the band, be portable, look the part, yet be unusual. We were especially interested in having the low notes of the instrument cut through the mix. John's resulting design proved to be perfect for our needs and the symmetry made for a beautiful balanced look."
Michael Hatfield
The Mallet Band
San Francisco, CA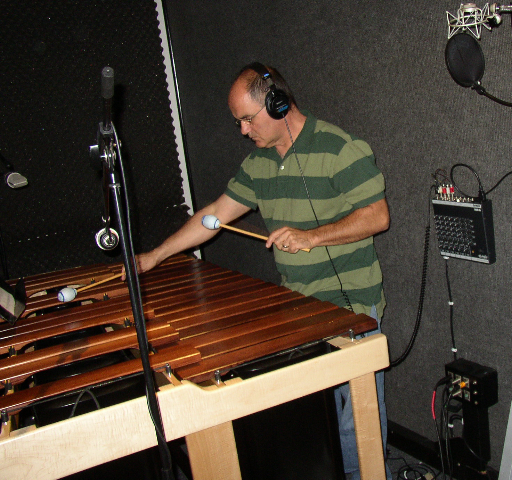 Jim Munzenrider of The Mallet Band in the studio on the Salazar Bass Marimba
---
"My newly acquired Deagan #102 frame had missing parts, dented and rusted resonators, crumbling felts, black and gold chipped spray paint, and split rails and end pieces. Nevertheless, Salazar Fine Tuning's precise and detailed work seemed to turn back the clock to give me the closest thing to a new Deagan instrument I had ever seen".
Wade Culbreath
Los Angeles Recording Studios
DeaganResource.com
---
"When it comes to the tuning of my marimba bars, I am most discriminating. They have to be done right or else. Whether it's retuning your old set, or making new bars, I respect John's work highly."
Dr. David P. Eyler
Director of Percussion Studies
Director of Concordia Marimba Choir
Concordia College-Moorhead, Minnesota
---
"Salazar is a fine craftsman who has great ears and fast turnaround times; exactly what we require for the discriminating clients we regularly serve."
Dan Savell, Co-Owner
Los Angeles Percussion Rentals
Los Angeles, CA
---
"I am consistently impressed by the quality craftsmanship of Salazar Fine Tuning."
James Lee (Trey) Wyatt III
San Francisco Symphony, Percussionist
California Percussion LLC, Owner
---
"The work John Salazar did for our 1934 Deagan Marimba-Xylophone Model 4724 was stunning. It was beautifully restored and sounds terrific. I can't say enough about his craftsmanship."
Dr. Eric Hollenbeck
Associate Professor of Percussion
Colorado State University
Fort Collins, Colorado
---
"Just unpacked the bars, unbelievable refinishing job John. They look and sound great! You'd never know the marimba was 100 years old. Thanks for the high-level craftsmanship!"
Mike Snyder
Independent Studio Drums & Percussion
Seattle, Washington

---
"Dear John, I love the marimba bar that you made for my Vancore Bass Marimba! It is the high sound quality I was looking for. I highly recommend your services. Great stuff!! Thanks."

Luis Garay
Performer/Artistic Director
Percussion World Ensemble
Washington, DC Region